In recent years, an increased awareness of energy consumption has been an important driver for technological advances in lighting. LED lighting has already been around for some time, but the latest improvements have enabled this form of 'green energy' lighting to become both affordable and very applicable to a wider range of uses.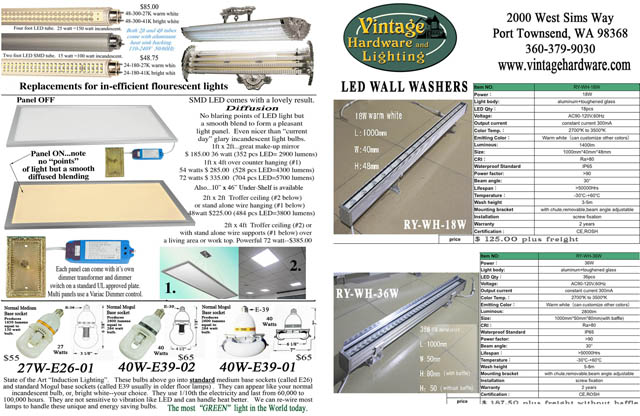 Take for instance these new diffused LED flat panel lights that can be mounted in a variety of ways, and provide a much longer lifespan than traditional fluorescent bulbs. These LED light panels are available with dimmers that can be set from a very low, ambient glow (ideal for subtle lighting)– up to a very bright light (suited for a working environment). Unlike the common 'tube lights' based on fluorescent lights that frequently die out or may flicker – LED flat panel lights do not cause distracting flicker even when dimmed at any level.
Video about LED Flat Panel Lights
Unlike light bulbs or tubes mounted behind plastic or glass diffusion panels – LED flat panel lights function on their own as diffusion panels, and do not require additional diffusers or screens. Because of this, there are no obvious points of lights visible in the panels but rather a uniform surface of smooth and even light.
Their physical form factor also opens up a new world of possibilities in terms of discrete or space saving installation. Measuring in at just ½ inch wide, the LED flat panels can be installed and hidden from view underneath shelves or under kitchen cabinets. They are also well suited for use as make-up mirrors or any work surface where a very even light is required.
Our LED Light Flat Panels are available in different sizes and can be used on either 100 volt or 240 volt power supplies. Some panels measure 2 x 4 or 2 x 2 foot, and can easily be suspended into a standard ceiling grid in office spaces, stores, warehouses, or shops. Alternatively, the included brackets can be used to suspend the LED flat panels in a hanging configuration from higher ceilings.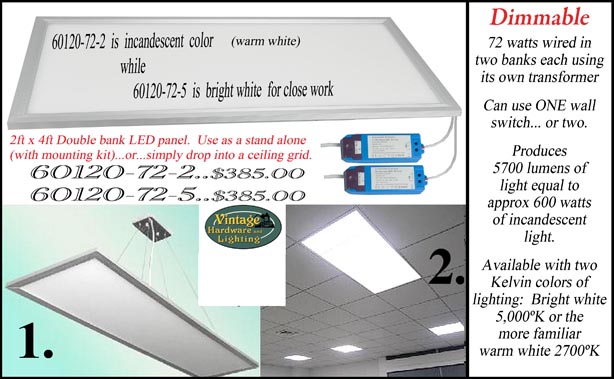 Energy consumption range from only 24 to 72 watts – without sacrificing light output, and the average lifespan is an impressive 50.000 hours. Contact sales@vintagehardware.com, or call (360) 379-9030 today for more information on LED Flat Panels.