When restoring an old house, or planning the design for a new home decorated in an antique fashion – it all comes down to detail. Vintage switch plate covers and electrical outlet covers are often overlooked in this aspect – as most of the home's lighting and cabinet hardware steals the limelight. But it's amazing what a difference the seemingly simple things can make.
Although you can find cheaply made (often made from lower quality, stamped metal) vintage switch plate covers and outlets at certain hardware stores – there is nothing like a properly recreated, solid brass or hammered copper light switch plate made to look identical to their antique originals. Shown below are just a few examples of Victorian switch plates, Art Deco light switch covers, and hammered copper Arts & Crafts / Craftsman style outlet covers.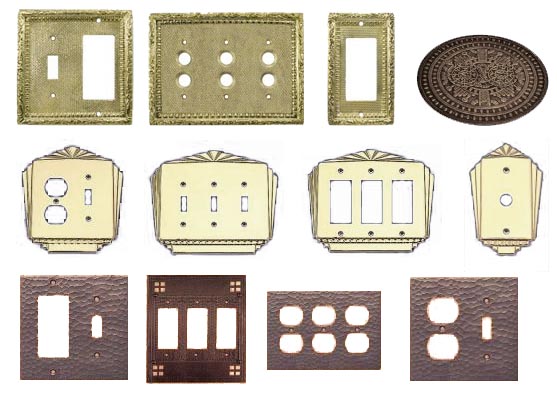 The earliest 'proper' covers made for light switches came around the time of World War I. Electricity was still fairly new and the first switches mostly served a practical function – with less regard for looks and safety. But switch plate covers soon became a necessity to protect people from touching live wiring – and with that came a need to make the light covers or electrical outlet also look appealing since they would be visible in every room. Vintage Hardware & Lighting in Port Townsend, WA recreates all the classic style light switch plates and covers from solid brass or hammered copper. Each product meets modern electrical standards and fit standard socket and plug sizes.